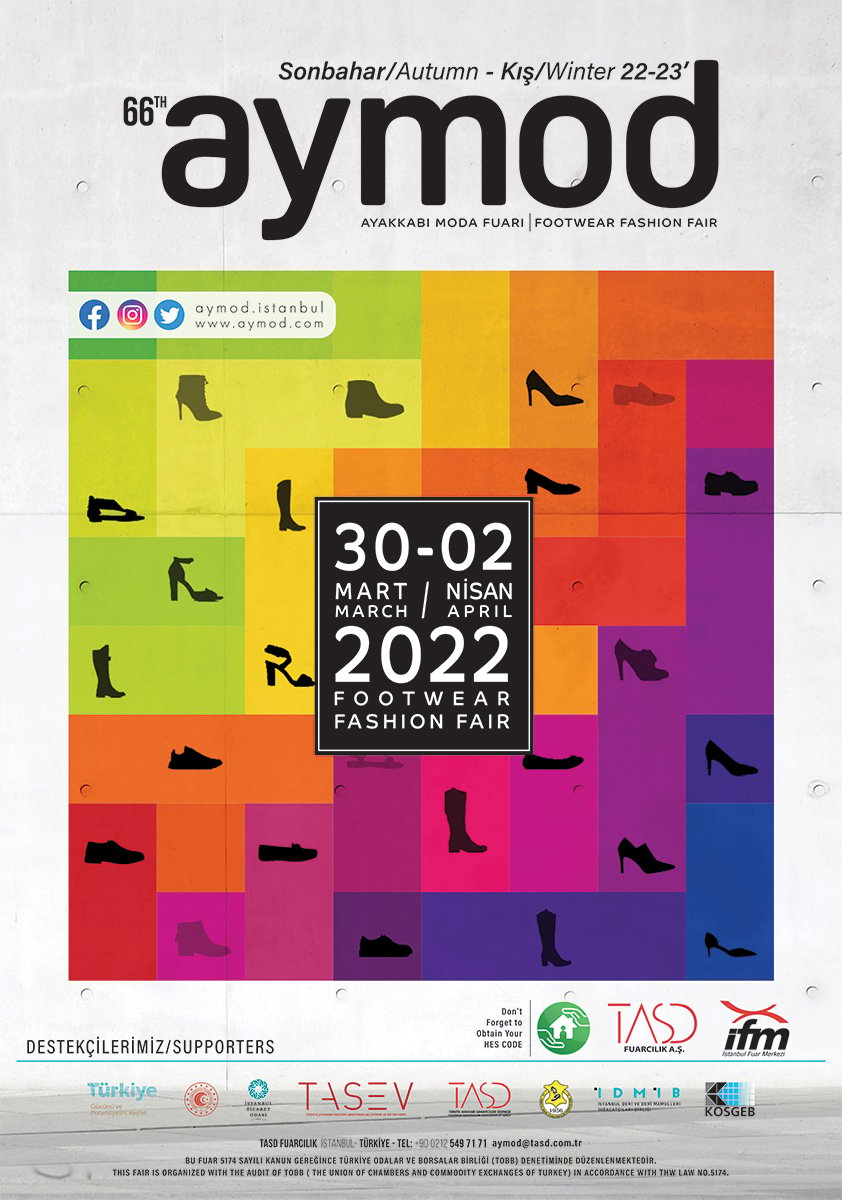 AYMOD - International Shoe Fashion Fair, is a global pacesetter of the footwear industry, excelling and starring in footwear and leathercraft.
Appearing on the stage for the 66th time between the dates of 30 March -02 April 2022, the exhibition always makes its presence felt with its diversity and quality of products and services dedicated to the footwear industry. Organized at CNR Expo Istanbul Expo Center twice a year, in spring and autumn, AYMOD greets exhibitors and visitors from all over the world in the intersection of global trade, Istanbul.
AYMOD adopts superiority in quality and embraces a broad range of cutting-edge technologies and innovations, which puts AYMOD in the spotlight of the footwear world.
One of the pioneering exhibitions dedicated to the global footwear industry, AYMOD keeps adding momentum to its business volume with the participation of domestic and international buyer delegations, national pavilions, and a flock of visitors from all parts of the world.
| Brand | Hall | Stand No | Hall Map | |
| --- | --- | --- | --- | --- |
| LIG | 2 | | | -- |
| ESPY | 2 | A01 | | -- |
| FRANKO ARMONDI, AMARILLO, VENTI | 2 | A02 | | -- |
| LAGUNA, E.M. POLO, DUDLEY, PAİKE | 2 | A06 | | -- |
| ERKA FOCUS | 2 | A12 | | -- |
| BY MODACIM EXCLUSIVE | 2 | A20 | | -- |
| STELLA PI | 2 | A26 | | -- |
| ALVITO | 2 | B04 | | -- |
| MISS ROY | 2 | B05 | | -- |
| MARZIA, LOREI MILANI | 2 | B08 | | -- |
| THE MARCOMEN WORLD, SCOOTLAND, MARCOROSSI | 2 | C02 | | -- |
| DOCTOR'S | 2 | C04 | | -- |
| GLAZA SHOES, ERDOĞAN DENİZ SHOES ACCESSORIES | 2 | C06 | | -- |
| MİO GUSTO | 2 | C08 | | -- |
| NATURSOFT | 2 | C10 | | -- |
| PIENN, EUROSTEP, EUROSOFT, BARIŞ, NIKKO | 2 | C30 | | -- |
| TIGRA | 2 | D01 | | -- |
| EPOCALE | 2 | D02 | | -- |
| ADANA DERİ | 2 | D03.A | | -- |
| NAKURU AKKOÇ AXXELL | 2 | D03.A | | -- |
| VENÜS | 2 | D04 | | -- |
| CLAVI, FREE BALANCE | 2 | D06 | | -- |
| NIVOX | 2 | D08 | | -- |
| BIKID BOLSET | 2 | D10 | | -- |
| MARCOROSSI | 2 | E01 | | -- |
| TRUST SHOES, CALLIGNARI | 2 | E02 | | -- |
| JOYFUL | 2 | E04 | | -- |
| CARLO VENTO, DESSALTO | 2 | E04 | | -- |
| VELOCE - KARÖZ | 2 | E05 | | -- |
| KOÇEL | 2 | E07 | | -- |
| FENESSE | 2 | E08 | | -- |
| LE BERDE | 2 | E11 | | -- |
| BUGGAMAN | 2 | E13 | | -- |
| ALBİNİ | 2 | E14 | | -- |
| BETAFORCE, BLOOM | 2 | E15 | | -- |
| UZMAN | 2 | E17 | | -- |
| TETRİ | 4 | A00 | | -- |
| ZAFER TÜRKOĞLU, MARCOMARİ, FLY COMFORT, FABIO MAGETTI | 4 | A00 | | -- |
| BRC | 4 | A01 | | -- |
| RIDGE, BECHELOR, HARSHE | 4 | A02 | | -- |
| BULLDOZER, ROCKART | 4 | A06 | | -- |
| VAHAP | 4 | A07 | | -- |
| ALBERTO ROSSI | 4 | A09 | | -- |
| PIERRE LOTI, KOŞAK, KOMATSO, COSMOPOLIS | 4 | A10 | | -- |
| PELLAGIO | 4 | A13 | | -- |
| AKSİN AYAKKABI | 4 | A13 | | -- |
| LEVENT AKSİN | 4 | A13 | | -- |
| WALK & DRIVE, MARIO RIVALI, CORRADO, TEZCAN | 4 | A14 | | -- |
| FOOTLINE | 4 | A17 | | -- |
| CORRENTE, DINO MAGLINI, AKAR | 4 | A18 | | -- |
| ÇELİK SANDALET | 4 | A22 | | -- |
| SECURE WALK BY STEPS | 4 | A25 | | -- |
| FOREX ANATOMIC, SAHRA COMFORT | 4 | A28 | | -- |
| POLLZENN, EHİL, PETFORM | 4 | A29 | | -- |
| AGUCINO | 4 | B01 | | -- |
| TERRA, TRİO, AIR POINT | 4 | B05 | | -- |
| OVATTO, FUBBY | 4 | B06 | | -- |
| RELAX | 4 | B09 | | -- |
| FERUDUN, FERTINI, TREND | 4 | B10 | | -- |
| NADİR GÜRSEL | 4 | B13 | | -- |
| CG | 4 | B16 | | -- |
| GUARDI, M. FELLINI, G.F.F, PASSI VELOCE | 4 | B17 | | -- |
| ESSE | 4 | B18 | | -- |
| ETOR, SERGIO PUCCINI, DONNA BARBARA | 4 | B19 | | -- |
| CARFIER, REFLEX | 4 | B20 | | -- |
| LIBERO, CLEYSMEN, CLAYS | 4 | B21 | | -- |
| ARTIGIANO | 4 | B23 | | -- |
| ÖZBAĞCI, MADAMIA, IGS | 4 | B24 | | -- |
| VOYAGER, PEPİTA | 4 | B25 | | -- |
| FERROMENTE,TESSERA | 4 | B26 | | -- |
| MACHOSSEN CALZATURE | 4 | B30 | | -- |
| CABANI | 4 | C01 | | -- |
| KING PAOLO, COMFOREVO, KRAKERS, SHOEFLEX, CLIMATE COMFORT | 4 | C02 | | -- |
| NEVZAT ONAY | 4 | C04 | | -- |
| OGGI, SEPOL, PASIS, PALU | 4 | C05 | | -- |
| UCS UNITED, UNITED MARINE, EMILLY, VEGA COMFORT LINE | 4 | C09 | | -- |
| SIGOTTO | 4 | C10 | | -- |
| LE COLONEL, PASSO RIPE, MARIO FERRETTI, GALIZIO TORESSI-IL PASSO-LE PREMIER | 4 | C11 | | -- |
| ALCARPIN | 4 | C14 | | -- |
| SETTE | 4 | C15 | | -- |
| MTN MONTANA | 4 | C18 | | -- |
| VAKEN, DMAX | 4 | C22 | | -- |
| MYSTIC, PACHİO | 4 | C28 | | -- |
| LUCCIANO BERTOLLI, RIPE SHOES, PATRICK CASSA, GÜNDEN | 4 | C30 | | -- |
| CHELSY | 4 | C33 | | -- |
| NEDİM EDESSA | 4 | C34 | | -- |
| AKSİN, PAMPA, SİNAKS | 4 | D02 | | -- |
| FRANCO GABBANI | 4 | D03 | | -- |
| EFSANE, ALBA | 4 | D04 | | -- |
| LOFENI, BAY HALDUN | 4 | D05 | | -- |
| GROOM | 4 | D06 | | -- |
| PIERRONI | 4 | D10 | | -- |
| ALPAMEN | 4 | D12 | | -- |
| OSKAR AYAKKABI | 4 | D14 | | -- |
| RAMERO | 4 | D16 | | -- |
| ROGGERO | 4 | D17 | | -- |
| DÖRTBEY | 4 | D18 | | -- |
| JOHN RICHARDO, LECO, NANDO MUZI, DAMIR DESING | 4 | D19 | | -- |
| BANKORİNO - FİTOFEET | 4 | D20 | | -- |
| YAĞMUR | 4 | D22 | | -- |
| CHEERFULLİFE, COPPO MİLANO, ŞENASLAN | 4 | D33 | | -- |
| LUIS SANTINI | 4 | D35 | | -- |
| MOLYER, SERGIO PAGANELLI, WESTLINE, THE SHOES | 4 | D37 | | -- |
| DURU DERİ | 5 | A-20 | | -- |
| WOTS | 5 | A01 | | -- |
| HEYA | 5 | A02 | | -- |
| QUSHELİ | 5 | A04 | | -- |
| FAMPER, SAYINER | 5 | A06 | | -- |
| GERONIMO, TOLERANCE | 5 | A08 | | -- |
| MUYA | 5 | A10 | | -- |
| EVROMODA & RİPKA & ESTOMOD | 5 | A10 | | -- |
| VINICCI | 5 | A15 | | -- |
| LINA ANATOMIC | 5 | A15.1 | | -- |
| HEMKON | 5 | A16 | | -- |
| LOUIS FABIAN | 5 | A17 | | -- |
| FRIEDEN | 5 | A18 | | -- |
| TRAPANİ SÖYLER | 5 | A19 | | -- |
| ESTRELLA BRILLANTE | 5 | A21 | | -- |
| REKIRS | 5 | A23 | | -- |
| OBLAVION | 5 | A26 | | -- |
| ALTA GRACIA | 5 | A27 | | -- |
| SHEBAB | 5 | A28 | | -- |
| BENDER | 5 | B01 | | -- |
| FABCARE, GOLDCARE, VENÜS, GOLD, LORD | 5 | B02 | | -- |
| TIGLON, OWUNDAYS, MCP, PAUL BRANCO | 5 | B03 | | -- |
| LA PINTA / LP LAPINTA ATELIER / MARIPOSA | 5 | B04 | | -- |
| LOBENO CLASSTER, KOŞAR, COŞŞ | 5 | B05 | | -- |
| CAPRITO | 5 | B06 | | -- |
| ROCCOL & ROSE CORVINA | 5 | B08 | | -- |
| MOLLY BESSA, DACOTA | 5 | B11 | | -- |
| NEMCA SHOES | 5 | B14 | | -- |
| ETERNAL SHOES, ROLLBAB | 5 | B16 | | -- |
| WELL FOOT | 5 | B17 | | -- |
| AZRA | 5 | B18 | | -- |
| ANNA SHOES | 5 | B19 | | -- |
| NUYOU | 5 | B22 | | -- |
| LONDON & LONDON | 5 | B24 | | -- |
| FLY SOFT, SANDOS, LUCKERS | 5 | C01 | | -- |
| KOMCERO, DR JELLSADRES | 5 | C03 | | -- |
| DEREM-DAKKEM | 5 | C06 | | -- |
| PRUSIAS, MAN IN GROTTO, FOOT MARK, GROTTO | 5 | C07 | | -- |
| ELDE | 5 | C08 | | -- |
| MAGO | 5 | C09 | | -- |
| OTTIMO, BY DAĞTAÇ | 5 | C10 | | -- |
| SAMAS | 5 | C10 | | -- |
| SM WHY MORE MADELL | 5 | C12 | | -- |
| APOLLO | 5 | C14 | | -- |
| BATI SHOES | 5 | C15 | | -- |
| BEMSA, MEVA | 5 | C17 | | -- |
| LİBA - TORELLE | 5 | C18 | | -- |
| MT | 5 | C19 | | -- |
| EDİK / ONNEA | 5 | C20 | | -- |
| BATIMODA SHOES, COMFORT NO-1 | 5 | C23 | | -- |
| WEPSS | 5 | D02 | | -- |
| RIWALLI | 5 | D05 | | -- |
| PANDEW, BRAVELLI | 5 | D08 | | -- |
| LİZARD | 5 | D09 | | -- |
| SHERLOCK SOON, DONNA STYLE, COCONUT | 5 | D10 | | -- |
| BÜLBÜL, DIVADONNA, TUWA, RIO CAPRIO, POLONETTO | 5 | D11 | | -- |
| DERİ-SAN COMFORT SHOES | 5 | D12 | | -- |
| BERENNI, CRISSO | 5 | D14 | | -- |
| DOREEN SHOES / ÖKÇESİZ SHOES | 5 | D15 | | -- |
| PANDORAMODA | 5 | D17 | | -- |
| EVIDA COMFORTLINE | 5 | D18 | | -- |
| DEKOSA - ÖZDEDE | 5 | D21 | | -- |
| NGS | 5 | D23 | | -- |
| FEMISS | 5 | D25 | | -- |
| HUMES, SEVINÇ | 5 | D27 | | -- |
| ENDLESS COLLECTION | 5 | D29 | | -- |
| LA BELLINI | 5 | D33 | | -- |
| MARIO ROSSI | 6 | A01 | | -- |
| ICEMEN, VXN, KECECİ BABA, KOLOMEN | 6 | A02 | | -- |
| KARYOKA | 6 | A05 | | -- |
| PALOMA, CHIALS | 6 | A07 | | -- |
| WEST TO WEST | 6 | A09 | | -- |
| PANUCCI | 6 | A11 | | -- |
| CONSUELO, BETTY BLUE | 6 | A13 | | -- |
| CHARMIA | 6 | A16 | | -- |
| GESS | 6 | A18 | | -- |
| NEL MODA | 6 | A20 | | -- |
| DUE LULE | 6 | A22 | | -- |
| DERIVA | 6 | B01 | | -- |
| DAMLAX | 6 | B02 | | -- |
| MANZO | 6 | B03 | | -- |
| ROBERTO LENZI | 6 | B05 | | -- |
| CAMUZARES | 6 | B06 | | -- |
| FRESCO GOSSI | 6 | B08 | | -- |
| NILUFARR, SECRETZONE, MARIA ESSE, SIGOTTO DONNA | 6 | B09 | | -- |
| TUCINO | 6 | B09 | | -- |
| CANILH | 6 | B10 | | -- |
| GUJA | 6 | B14 | | -- |
| DIVINO | 6 | B15 | | -- |
| TURGUT ERTEN | 6 | B21 | | -- |
| GLAMOR SHOES | 6 | B22 | | -- |
| MFS SHOES FACTORY | 6 | B24 | | -- |
| SOFIA BALDI | 6 | B27 | | -- |
| G.Ö.N. | 6 | B29 | | -- |
| ALPLER | 6 | B30 | | -- |
| BRIDALSMILEE | 6 | B33 | | -- |
| FREEFOOT | 6 | C01 | | -- |
| DE MAZZIO | 6 | C02 | | -- |
| DR. FLEXER | 6 | C05 | | -- |
| FJOLLA GINNY | 6 | C06 | | -- |
| ILOZ, VAGGA | 6 | C08 | | -- |
| DICCI SHOES | 6 | C11 | | -- |
| IMPERO, REGNO, KIRAY | 6 | C14 | | -- |
| CRASH, CANDY'S | 6 | C15 | | -- |
| ALPINO | 6 | C16 | | -- |
| BURÇ, FOOTCER, SELMAN, MİLO, HAPPY BULL | 6 | C17 | | -- |
| TEENS, PIER VINO | 6 | C18 | | -- |
| AYAKDAŞ, AYDINDAŞ, MİNİDAŞ | 6 | C25 | | -- |
| KRISTE BELL | 6 | C25 | | -- |
| VIP HEADMAN / PİSTOLA / KOCAGÜN | 6 | C25 | | -- |
| ABK , DİMATO | 6 | C27 | | -- |
| LEVOSSA, TEGY | 6 | C29 | | -- |
| SNIPE, BLUFENIX | 6 | D01 | | -- |
| SALDA | 6 | D02 | | -- |
| PURE NY | 6 | D04 | | -- |
| ERPAŞ | 6 | D05 | | -- |
| PEPOL-TT067 | 6 | D06 | | -- |
| YNR SHOES | 6 | D07 | | -- |
| HKDREAM | 6 | D08 | | -- |
| ERDO - ERSAX | 6 | D10 | | -- |
| ROVİGO PLUS | 6 | D12 | | -- |
| RUGANO | 6 | D14 | | -- |
| REAL FOOTWEAR, REAL NATURA ANATOMIC SANDALS | 6 | D17 | | -- |
| VEDAT AKSİN AYAKKABI, AXN COMFORT LEATHER SHOES | 6 | D20 | | -- |
| OSSA, MARIOSSA, ZETWAL, O.S.C, VILI | 6 | D21 | | -- |
| MELDYMOOR, MELDA | 6 | D23 | | -- |
| FLEXINOS, DEPEPPER, THREE PEPPER | 6 | D27 | | -- |
| ÖZPINARCI KIDS | 7 | A-11 | | -- |
| TODDLER | 7 | A01 | | -- |
| RKS SHOES | 7 | A02 | | -- |
| MOMY KIDS | 7 | A03 | | -- |
| MINNOKIDS, RICHYKIDS | 7 | A04 | | -- |
| PIARMONI | 7 | A05 | | -- |
| MOTTI KIDS CLUB | 7 | A06 | | -- |
| MİNİCAN | 7 | A08 | | -- |
| WORLD KIDS ŞENLER BEBE | 7 | A13 | | -- |
| DELTALIFE, NOVALIFE, MODANEW | 7 | A15 | | -- |
| DALTON | 7 | A16 | | -- |
| ORTOPEDIA, dincoHEEL, SHOCK POINT SYSTEM, ON BOARD, ROCCO RICH, ORTO DIABETICO, ORTO HALLUX, AFORT | 7 | B-07 | | -- |
| MYM EXCLUSIVE | 7 | B01 | | -- |
| DAVARCI, SEKADA | 7 | B02 | | -- |
| COMFY | 7 | B03 | | -- |
| MESSIMOD | 7 | B04 | | -- |
| LABOUR, LADY ELENA | 7 | B06 | | -- |
| GOLD DEER, PESETTO, ZWECK DULY, BAM NAME OF QUALITY | 7 | B08 | | -- |
| RÜZGAR EGE | 7 | B09 | | -- |
| PROMAX | 7 | B10 | | -- |
| ESTYLE | 7 | B12 | | -- |
| PERA DONNA | 7 | C00 | | -- |
| AKCHE | 7 | C01 | | -- |
| SPECTRA | 7 | C02 | | -- |
| CAMINA | 7 | C04 | | -- |
| MORE | 7 | C05 | | -- |
| SERKAN YALGI | 7 | C06 | | -- |
| GLORIA | 7 | C07 | | -- |
| ASCALINI | 7 | C09 | | -- |
| ROGON LINE | 7 | C11 | | -- |
| MARE VENTO | 7 | C12 | | -- |
| ROCKY SPORTS | 7 | C16 | | -- |
| JELLY BERRY | 7 | C18 | | -- |
| BONAMOOR | 7 | D01 | | -- |
| BLINK, BLINKSPORT, WOLY, FLEXICARE | 7 | D02 | | -- |
| VESTİGO | 7 | D03 | | -- |
| BARGELLO | 7 | D05 | | -- |
| MARCHA | 7 | D06 | | -- |
| CASHKA | 7 | D07 | | -- |
| MARXMARIN | 7 | D08 | | -- |
| MAXWELLAARAS, MISSDIAMANTE | 7 | D10 | | -- |
| MODELLE | 7 | D11 | | -- |
| SAST, DEXY | 7 | D12 | | -- |
| MARCABELLI, BAVER | 7 | D13 | | -- |
| VIGOTTI SHOES | 7 | D14 | | -- |
| BERTONI | 7 | D15 | | -- |
| MAMMAMIA | 7 | D17 | | -- |
| DAMY, UMAÇ | 8 | A01 | | -- |
| TIGERLINE, MATSTAR | 8 | A11 | | -- |
| FLET | 8 | A13 | | -- |
| FLYER, PEPINO, LILY PARI | 8 | A19 | | -- |
| CARRANO, DRAGON | 8 | A19 | | -- |
| GUARD, ÖZDER, PARATİK | 8 | B01 | | -- |
| GUARD, DİGA, ÖZDER, PARATİK | 8 | B01 | | -- |
| TWINGO, LEXOS, MARCO CASSANI | 8 | B02 | | -- |
| DESIDERO | 8 | B03 | | -- |
| TONY BELLUCCI, BOND NON, THE BOND, VANESSA SCANI | 8 | B05 | | -- |
| BESTOF | 8 | B10 | | -- |
| LEANDRO GUSTO | 8 | B10 | | -- |
| LUIS FIGO, ENRICO FETTI, ÇETİNTAŞ | 8 | B12 | | -- |
| PAPUCİX, SERDAL TÜRKOĞLU | 8 | B17 | | -- |
| FORZA | 8 | C01 | | -- |
| TROXY, PROSHECK | 8 | C03 | | -- |
| MCS BAGGAJ USSARO | 8 | C04 | | -- |
| YİĞİT KARDEŞLER | 8 | C08 | | -- |
| DUKAN'S | 8 | C09 | | -- |
| GRANDE | 8 | C10 | | -- |
| OX , NASA U.S | 8 | C11 | | -- |
| VIPSTAR, FIFI, DNY | 8 | C12 | | -- |
| TOGGA & TOGGA SPORT | 8 | C14 | | -- |
| FORELLI | 8 | C16 | | -- |
| LIVISTON | 8 | C21 | | -- |
| CONTEYNER | 8 | C22 | | -- |
| LUIZ PAULO | 8 | C25 | | -- |
| BERMODY | 8 | D03 | | -- |
| DEERWAY, PALET, BEWILD | 8 | D05 | | -- |
| SAYA MURAT | 8 | D07 | | -- |
| NEW BALANCE, DEICHMANN, LET'S GO, BAMBI, FOREMOST | 8 | D09 | | -- |
| CALVANO | 8 | D12 | | -- |
| CALVANO | 8 | D12 | | -- |
| BY BARETTİ | 8 | D16 | | -- |
| KISMET FARUK KARAR | 8 | D17 | | -- |
| FLORIUM, ALBERO | 8 | D18 | | -- |
| KARALI, CARLİNO | 8 | D24 | | -- |
| JACOBSON | 8 | D25 | | -- |
| AIRFLEX | 8 | D26 | | -- |
| REGO | 8 | D27 | | -- |
| PABUS COMFORT | 8 | D28 | | -- |