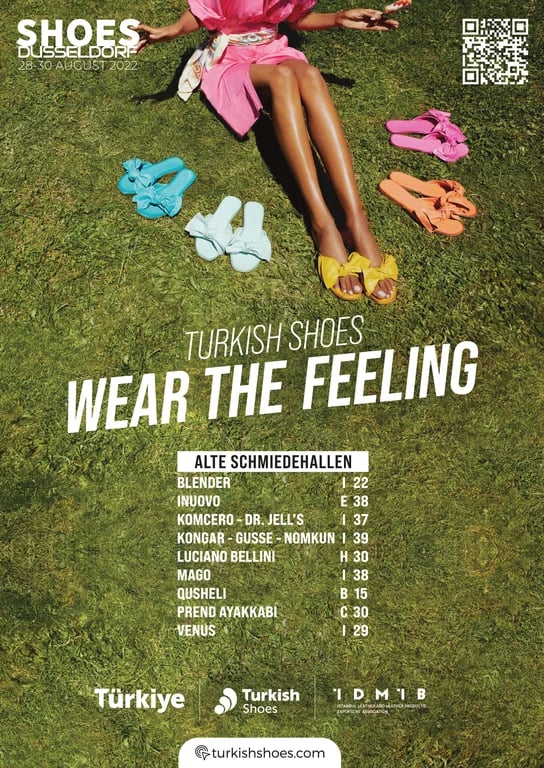 The former Gallery SHOES & Fashion will also be adapted to the new "SEE & ORDER" concept and the order platform in August 2022 will position itself as the leading German shoe trade show under the new name SHOES DÜSSELDORF.
SHOES DÜSSELDORF will take place on from 28 August to 30 August 2022 in Düsseldorf. Divided into premium, contemporary, urban, comfort and kids zone, SHOES DÜSSELDORF will take place in a modern, contemporary setting. The focus of the SHOES DÜSSELDORF is on the mid to high price segment. The exhibitors offer a mix of 65 percent international and 35 percent German brands. SHOES DÜSSELDORF is the international fashion trade show of the Igedo Company for footwear and accessories and is exclusively dedicated to trade visitors from the shoe, fashion and textile industries.
Turkish national participation is organized by Istanbul Leather and Leather Products Exporters' Association for the first time in 2022. In March 2022, 9 Turkish exhibitors are going to participate SHOES DÜSSELDORF with an area of 230 square meters.
Please click to download the Catalog
Brand
Hall
Stand No
Hall Map
QUSHELI

Alte Schmiedehallen
B15
--
Sigotto Uomo
Visit Manufacturer
Alte Schmiedehallen
C30
Visit Manufacturer
Inuovo
Visit Manufacturer
Alte Schmiedehallen
E38
Visit Manufacturer
LUCIANO BELLINI
Visit Manufacturer
Alte Schmiedehallen
H30
Visit Manufacturer
BLENDER

Alte Schmiedehallen
I22
--
VENUS
Visit Manufacturer
Alte Schmiedehallen
I29
Visit Manufacturer
Komcero
Visit Manufacturer
Alte Schmiedehallen
I37
Visit Manufacturer
MAGO
Visit Manufacturer
Alte Schmiedehallen
I38
Visit Manufacturer
GUSSE, NOMKUN, KLAN, SHAN

Alte Schmiedehallen
I39
--